Join Us for our Year of Jubilee Celebration!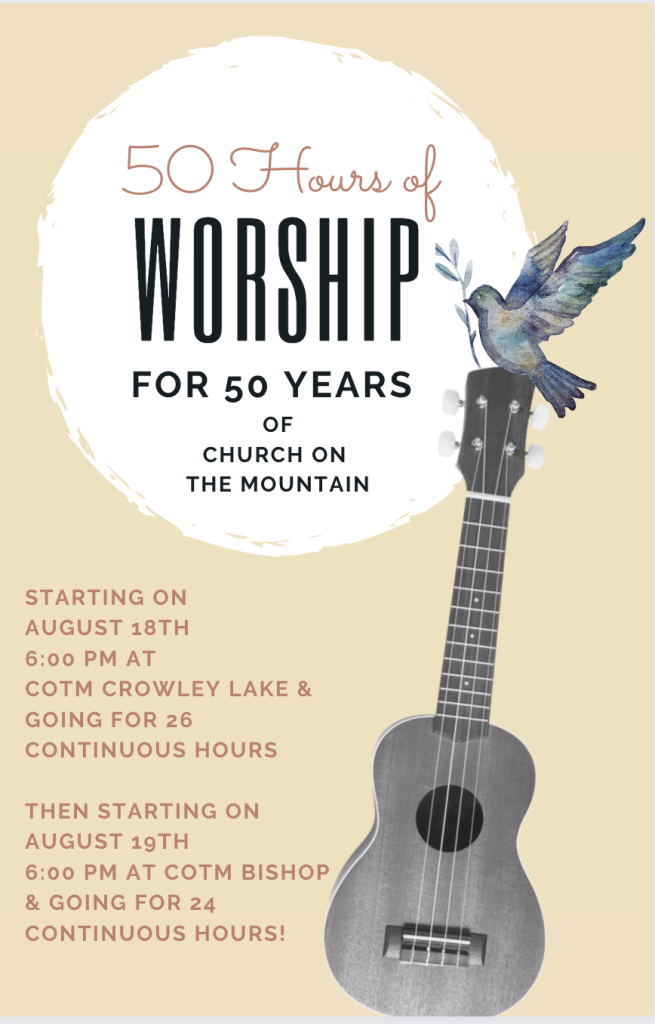 Church on the Mountain started in 1972 by a group of couples who held meetings at their home where people were being saved and set free! Albie & Helen Pearson were asked to come pastor this move and start a church and thus Church on the Mountain was birthed in Crowley Lake, CA!
We are so thankful to God for His church.  We are grateful to all of the people who started the church, but also to the many who kept serving, kept sacrificing, kept loving, and kept believing over the past 50 years!
When we heard Cindy Jacobs' prophetic word about 2022 and how she saw God's spirit and power being poured out like little wildfires upon small churches in rural areas and Rink Pino's "50 Hours for 50 Years" celebration at Christ for the Nations - our hearts came alive! We knew we needed to press into the Lord and commit to Him our own "50 Hours for 50 Years" celebration for Church on the Mountain! It is our hope that this intensive and extended time of prayer and worship will bring great breakthrough for individuals, our church and our communities! This is what we have been believing for!
So will you join us for some or all of this special time of round-the-clock worship for 50 hours??? We believe you will never be the same!
Here are the details:
We will be doing the first 25 hours in Crowley Lake and the second 25 hours in Bishop!
Worship will start Thursday, August 18th at 5:00 PM in Crowley Lake and extend continually through Friday, August 19th at 6:00 PM.
Then the worship will pick right up at our Bishop campus starting at 6:00 PM on Friday, August 19th and going around the clock and ending at 7:00 PM on Saturday August 20th.